Empty cart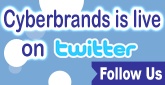 Shipping and returns | Privacy| Testimonials






30 DAY RETURN POLICY

Customer may return any product purchased from cyberbrands.com within thirty (30) days of delivery of the order. Customer may request a replacement product, store credit or refund. 25% restocking fee applied to your return.

Items with manufacturer's defects:
Please return the defective product and we will promptly ship you a replacement. If you are returning a defective item and do not want a replacement, there will be a 5% processing fee applied to your return.
Items returned as defective that are found to not be defective will incur a 25% restocking fee for the returned unit, therefore we suggest contacting the manufacturer as listed in your owners manual for support prior to requesting a return authorization.
Refunds will not be issued if a return is made without an RMA number.
How to return an item:
E-mail cyberbrands.com [customerservice@cyberbrands.com] or call our customer service at (310)219-3394 [MO-FR 9am-5pm PST] to notify a defective item and issue a #RMA number.
Please have your order number available. Please include a copy of your invoice or order confirmation email,
write your #RMA number on it and provide a return reason. Returns must be in like new condition.
Returnes will not be accepted without all of the original packaging, manuals and accessories.
All returnes must be received by cyberbrands.com within 14 days from the RMA number issuing date.
Refunds will not be issued if a return is made without an RMA number or after 30 days of delivery of the order.
Shipping charges are not refundable.
We recommend returns be made via UPS insured freight only. USPS cannot deliver to our location.
Cyberbrands.com accepts no responsibility for loss or damage items in return transit.
You are responsible for all freight charges. However, we will pay for the return shipping, if the item is damaged or defective, or if the wrong item was shipped.
CALL FOR CORRECT WAREHOUSE LOCATION

SHIPPING DAMAGES or SHORTAGES Have the carrier note any damages upon arrival. Inspect all packages and check the packing list to determine whether or not there are any shortages. If so, call Cyberbrands International and report these immediately ( with in 24hrs of delivery)
#3. Email addresses
# 4. Office Hours

Office Hours Call between 9:00 am to 5:00 PM Pacific Standard time.
Call 310-219-3394 for more information
# 5. Return Address

Call 310-219-3394 for our warehouse Return Address and RMA #

HOT AS SEEN ON TV
PRODUCTS
Sushi Master 5 In 1...
$ 29.95 /$ 19.95
Ultra Chef Express
$ 29.95 /$ 24.95

Kitchen Plus 3000
$ 29.95 /$ 19.95
MicroFiber Mop W/ 4...
$ 25.95 /$ 19.95